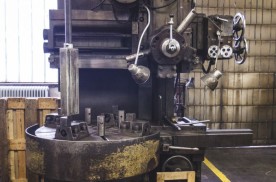 The carousel turning machines are suitable for working shorter workpieces with large diameters,
The lathes are the most commonly used cutting machines and are capable of diverse tasks.
The machine bed is made of high-strength, porosity-free cast iron.
The workpiece can be clamped to the chuck, face-plate, between the peaks in a static or moving tool depending on the size and the surface to be developed.
Complex shaped, cylindrical or conical surfaces, threads, mortises can be made.
Workable diameter:  800 mm
Workable lengths:      800 mm