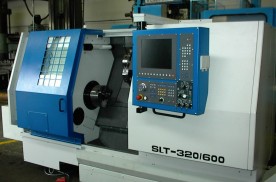 The lathes are the most commonly used cutting machines and are capable of diverse tasks.
The workpiece can be clamped to the chuck, between the peaks depending on the size and the surface to be developed.
The CNC controlled machines are very productive, very good quality surfaces can be created and they have high precision, thanks in part to the modern indexable cutting tools as well.
Workable diameter:    450 mm
Workable lengths:       600 mm