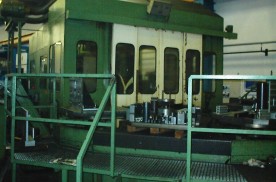 Machinery centers make it possible to produce finished parts: milling, drilling, turning with threading operations. The modern computer control allows for quick computer programming, data transfer and graphical loading and downloading between the machine and an external computer.
Horizontal machinery center with NCT control to work on large complex parts,
Have 4 palettes, and a tool changer with 40 spaces.
Workable sizes:
X =  1600 mm
Y =  1200 mm
Z =  1000 mm