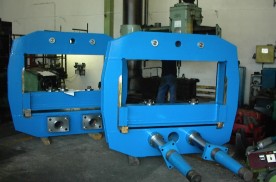 Since its establishment, Brunner Metal Forming Ltd. has been a supplier of the rubber industry.
In the field of the rubber industry, the machines and the machine lines manufactured for the Taurus company in Szeged provided a great experience. Here we manufacture (if needed along with designing) the special machines for the production of submarine oil hoses.
We manufacture carcass removal units, carrying trays, rotary cutting heads, and cutting cylinders for tire production from time to time.